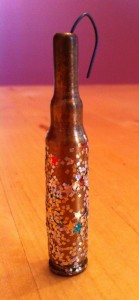 When my dad was in Vietnam, he made Christmas tree ornaments out of spent artillery shells, glue, and glitter. Growing up, these were some of the most highly prized ornaments that went up on the tree. I remember being fascinated with them more than any other ornament. (That is not to say I was not interested in the salt dough ornaments my mother made and I ate when no one was looking.)
This winter, Indy Upcycle will take part in the Broad Ripple Lights Up Tour. As part of that, we will have on display a tree and we need your help!
Our theme is handmade ornaments and trimmings, so we've decided to hold an ornament exchange. Here's what you have to do to be a part of it:
Create two identical ornaments and bring them to Indy Upcycle by November 30th. (Wow! That happens to be Small Business Saturday!*) Make sure to attach a tag with your name to each ornament.
* One ornament will be exchanged with another participant
* The other ornament will go on our tree and be returned to you after the first of the year.
We will have the exchange ornaments ready for pickup on December 2nd.
We will have the display ornaments ready for pickup on January 2nd.
So, are you in? We hope so!
We can't wait to see what you make!
P.S. Do you create for a living or a hobby? We're totally OK with you putting your business name or online store URL on the back of your name tag. Show us a sample of your work! It's a great time to advertise!
*If you spend $25 at  any small business with your American Express Card on November 30th (Small Business Saturday) you'll get a $25 credit on your next statement. As it happens, our gift cards are $25!