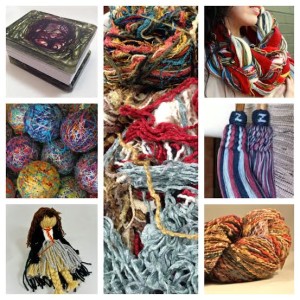 It's been almost a year since our last contest! That's too long!! We miss seeing what you guys make, so here we go again.
Inspired by a large donation of thrums, given to us by Chris Gustin of Homestead Weaving Studio, we are challenging you to create something starting with a thrum.
That's a thrum, not a thumb. A thrum is a fringe of warp threads left on the loom after the cloth has been removed. It is, essentially, waste and usually gets thrown away if something better doesn't happen to it. That's where you come in!
Put on your thinking caps, grab a thrum, and create something!
Here's how it will work:
1. Between now, 8/29/2014 and Saturday, 9/13/2014, come in and sign up to participate by giving us your name and email address. Then select up to 2 thrums from us. In the event that we run out, first come/first served rules apply. (We just ask that you, please, only sign up if you truly intend to finish the project.

2. Between now and September 20th, create something out of your thrum. Remember, we want to see YOUR work, so be creative! Feel free to be inspired by something that already exists, but make it your own.
5. Submit your project to Indy Upcycle by emailing photo(s) of it or by bringing it in for us to photograph no later than 5:00PM September 20th. (We will send out a couple reminders by email and on Facebook.)
Along with your image we need: Your Name and a Title for your project.
6. Photos of the projects will be uploaded to Facebook by 10PM on September 21st. From then until 10PM on Saturday the 27th, Facebook fans will vote for their favorite project. ("likes" will earn a project 1 point, comments will earn a project 2 points, shares will earn a project 3 points, and our three favorites will earn an extra 5 points.)
7. The 1st place winner will receive a $25 Indy Upcycle gift card and a Indy Upcycle Bumper sticker.