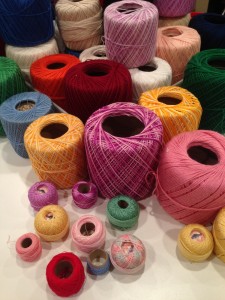 It's time again to get your creativity going! We need to figure out innovative or just super cool ways to use crochet thread. Currently our crochet thread stock doesn't fit it's bin, so we are hosting a contest to give some of it away and to show what cool things you can do with it!
Don't know how to crochet? It's OK! You don't have to! That's kind of the point of this contest.

Here's how it will work:
1. Between now(4/23/2013) and next Tuesday(4/30/2013), come in and sign up to participate by giving us your name and email address. Then select one or two balls of crochet thread we have laid out for the contest. I suppose it is possible that we will run out, so we must say that it's first come/first served. We just ask that you, please, only sign up if you truly intend to finish the project.

2. Between now and May 18th, create something fantastic that uses the crochet thread as the FOCAL POINT in your project. Remember, the point of this contest is to show off what you can do with crochet thread so others will be inspired by it.
5. Submit your project and it's title to Indy Upcycle by emailing photo(s) of it or by bringing it in for us to photograph no later than 5:00PM May 18th. (We will send out a couple reminders by email and on Facebook.)
6. Photos of the projects will be uploaded to Facebook by 10PM on May 18th. From then until 10PM on Monday the 20th, Facebook fans will vote for their favorite project. ("likes" will earn a project one point, comments will earn a project two points, shares will earn a project three points, and our three favorites will earn an extra 5 points.)
7. The winner will receive an Indy Upcycle T-shirt, and $10 off the use of our craft room. All other completed submissions will receive an Indy Upcycle decal, and $5 off the use of our craft room.