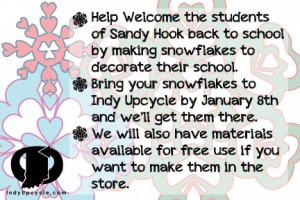 When I heard the tragic news of the recent school shooting, my heart ached for the children of Sandy Hook Elementary School and their families. For a child to witness that kind of violence and hate is crushing.
In January, the children of Sandy Hook will return to school, and the PTA in Newton has come up with a way to greet the students in a super cool and symbolic way. They have sent out a request for people to donate handmade snowflakes so that they can decorate the school as a winter wonderland.
Imagine walking through the school and seeing countless individual and unique snowflakes from so many loving people. People who wish them well and who care.
My family and I plan on taking part in this effort by making and sending as many snowflakes as we can, and I invite you to join our efforts. All you have to do is create snowflakes however you do it best and drop them off at Indy Upcycle by January 8th or mail them yourself before January 12th to:
Connecticut PTSA
Re: Winter Wonderland
60 Connolly Parkway
Building 12, Suite 103
Hamden, CT  06514
Indy Upcycle wants to help you participate by giving you free use of any of our materials you need to make your snowflakes while you are here in the store.
Thank you, in advance, for your participation in this special gift.